One of my favorites horse quotes was often used by Ronald Reagan.
There's nothing better for the inside of a man than the outside of a horse.
He used it in a speech to a friendly crowd inside the Buffalo Bill Wild West Arena in North Platte, Lincoln County, Nebraska, August 13, 1987, which was six years into his presidency, when the economy was growing and communism was shrinking. Always one to connect with the crowd, Reagan led off his remarks with this statement:
I feel even more at home here in Buffalo Bill Cody's rodeo grounds. Like Cody, I was born in a small town, moved out West, served in the Army horse cavalry reserve, and then went into show biz. Now, there are a lot of people—kind of thinking they're disparaging in doing it-call me, today, a cowboy. You know, I've never understood what's so bad about being a cowboy. I'm proud of my spurs. I've often said there's nothing better for the inside of a man than the outside of a horse.
In two short years, Reagan, having earned his spurs, would ride off into the sunset as one of America's best loved cowboy presidents. He would leave us with the thought that a good man is harder to find than a good horse.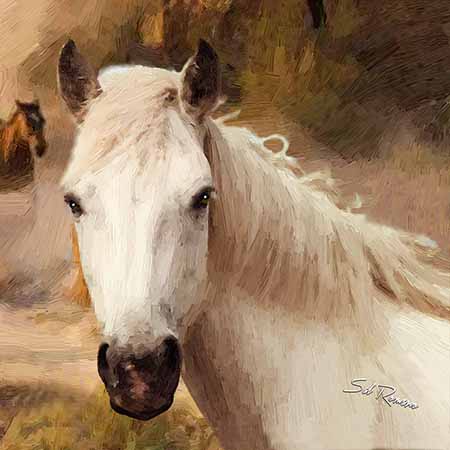 In case you are wondering, Ronald Reagan's favorite horse in retirement, El Alamein, was a white Arabian.
No space, no money for a horse, then you can own a white Arabian horse throw pillow by Poppa-Artzee. We will ship it right to your door.